Popular Packaging Options
Chromatix Certified

Transforming the art of printing into the science of accurate color reproduction.
ISODISC customers can expect excellence in color matching and consistency. On-Disc Silk-Screen printing that matches your other printed collateral is a reality that happens everyday at ISODISC.
​Pantone colors that matchthe first time and every time.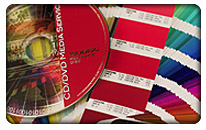 We also excel in offering all of the most practical alternatives for today's varied CD/DVD/BD publishers. Here's a look at what satisfies the broadest range of requests:
1-7 color silkscreen printing at 120 lpi.
Everest color printing at 170 lpi.
Monochrome thermal printing at 600 dpi.
Silkscreen printed media with Rimage Perfect Print index mark.
PerfectPrint thermal on pre-silkscreened indexed media.